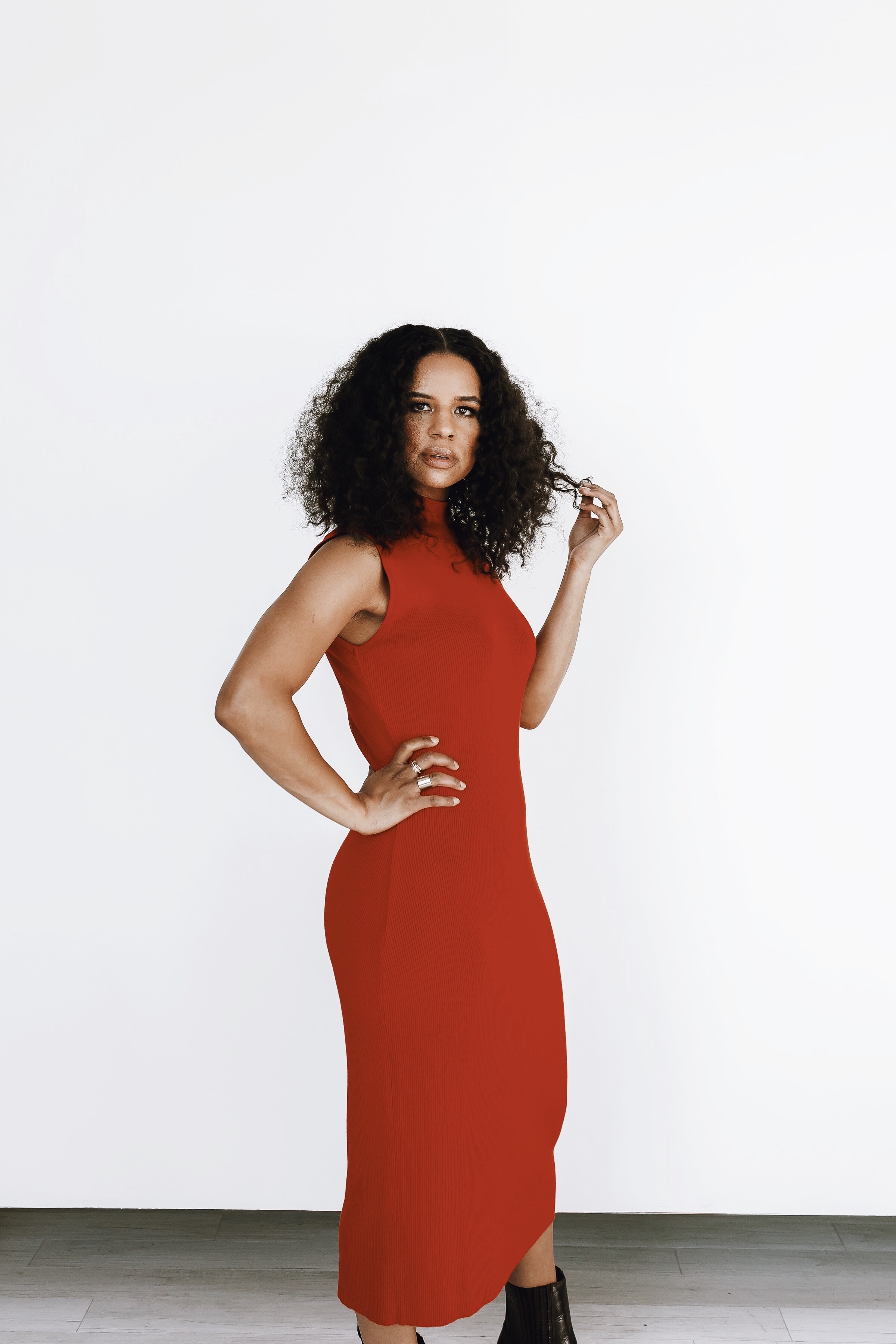 Photo: Maribel Morales .
The natural hair journey for black women – which is often belittled and described as things like frizzy, nappy, and kinky – has been nothing short of treacherous. For far too long society fooled us into believing that if we didn't conform to their standards of beautiful silky, straight hair then we (and most certainly our hair) was simply not good enough. Professional and school settings have been constructed to see our hair as a distraction and not fitting within "dress code." I remember spending countless Saturday's in the beauty salon for the entire day (also the birth place for many memories and bonding time with my childhood friends – heeeeey Annetta and Elyse!) for a relaxer touch up—a chemical process that makes the hair root bone straight—followed by a hot comb press out. Needless to say, our hair and how we cared for it quickly became our crown and a big part of our identity. And it certainly didn't matter if we were literally killing that illustrious crown in the process either. Because our hair is dry in nature, a chemical relaxer is the absolute worst thing you can do to its good health, not to mention the heat styling tools used day in and day out on top of that. But in the end all that mattered is we found acceptance from the majority and our silky, straight hair could conquer any humid day head on without a kink or coil in sight.
Today many black women have proudly and boldly chosen to abandon society's standards and set our own—our natural hair is IT. In a quest to lead healthier lives and take better care of ourselves, we quickly realized that embracing the natural state of our hair is a major piece of that. And the hair care industry couldn't help but make way for this movement. Brands like Shea Moisture and Carol's Daughter emerged in the early 90s serving as the pioneer for what many know as the Natural Hair Care Renaissance and have seen insurmountable success since. Not to mention the countless other natural hair care brands that continue to launch everyday, making what was once a sparse product quest, now an overwhelming and daunting one! Whether we walk into a boardroom, the classroom or out on the town, our hair is our hair and not a measure of our intelligence, capabilities or inferiority to the majority. We have found immense beauty in all the unique ways our hair can be styled and take pride in the ability to create an entire #MOOD from this great variety. However, we now often find the majority also enjoys wearing hairstyles that are historically birthed from our culture (like cornrows), but have chosen to give them a new name (like boxer braids). And to no surprise, they do not face backlash for wearing the same hairstyles we so often do in professional settings. In the high fashion and supermodel space, we either don't get considered for certain jobs because our hair is not the "look" a company wants or if we do get booked, we are greeted on set by an ill-equipped hair stylist who does not know how to work with our hair type. I think you get that I can go on and on about all the disparities we face when it comes to embracing our natural hair.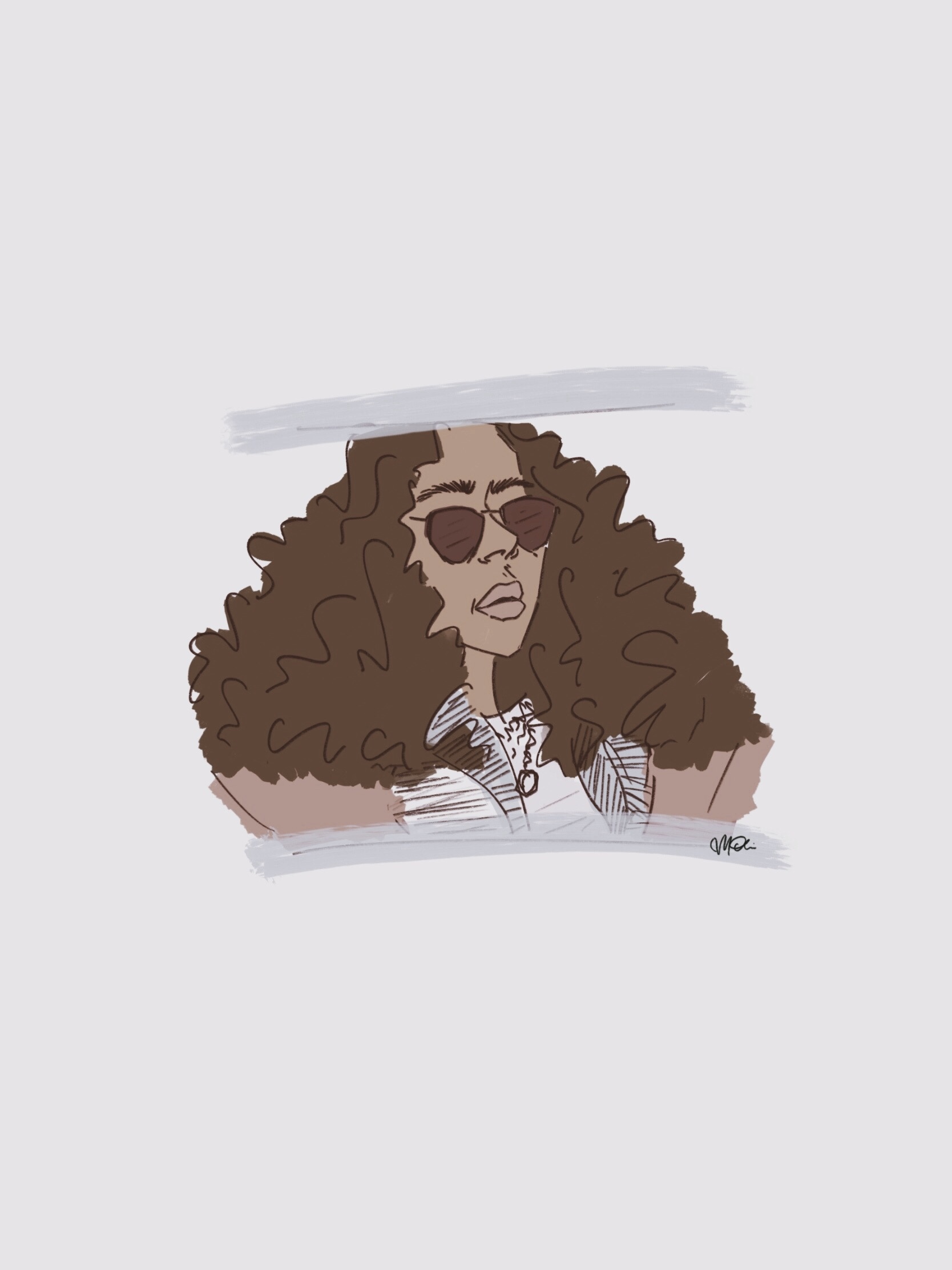 I absolutely love this illustration of me in all my hair glory during NYFW last fall as captured by the ever so beautiful and talented Melarie of Mauve Paper Co.
Get together any black woman and her tribe and you can guarantee that hair is bound to be a topic of conversation. The struggles to maintain it, what protective style we're swooning over and/or plan to try, a new life-changing product we discovered – in some form or fashion, hair always comes up. We also console and relate to one another of how our hair has brought with it painfully uncomfortable and inappropriate encounters with the majority. We have experienced things like:
Getting unusually close to our personal bubble and asking to touch our hair.

Asking how we're able to keep our hair in a certain style for days at a time.

Being told it looks different.

When we do choose to straighten our hair or wear it in certain protective styles, being asked if it's real. And then proceeding to touch it without asking.

Asking why we care for it the way that we do.
And these are just a few examples of a very long list. It is certainly one thing to be in admiration of someone's hair (I have more hair crushes than I can count) and to compliment them as such. Things like, "Your hair is so gorgeous" or "I love your hair" are all very appropriate, sweet things to say. But it is quite another to gaze at someone in disbelief or approach in a pet-like manner because I personally think a dog's hair is about all anyone should ever ask to touch.
I fully realize that too many people grow up in secluded bubbles and are not exposed to the beauty that exists beyond their familiarity well into adulthood. To which I am always happy to serve as a vessel to help anyone learn about my culture and reality. Seeking to understand others beyond our own cultural comfort is where life begins to get full. I challenge any of you that may be thinking back right now and realize you were someone who might have spewed off some of these same insensitive comments or questions, to get uncomfortable and humble yourself to ask thought provoking questions. Be led by a genuine grace and I guarantee the person on the receiving end will feel safe enough to share and enlighten. And most importantly, once you know better be brave enough to step up and intervene when you witness someone else taking a misstep because it is in those moments that we force the narrative to change for good.
xo